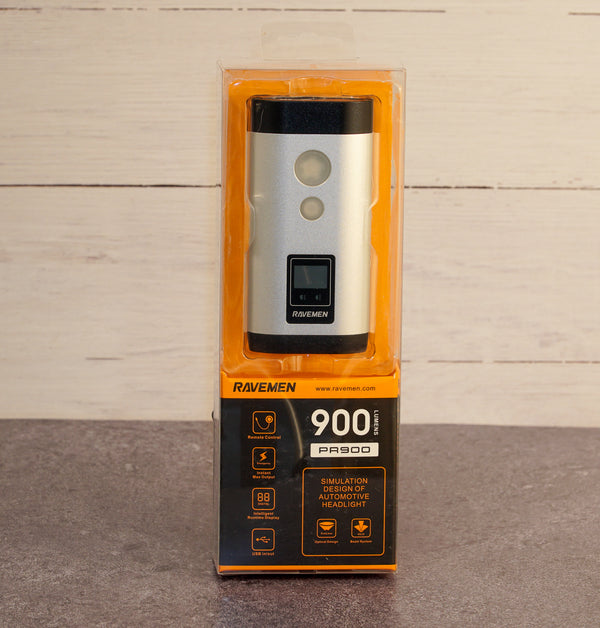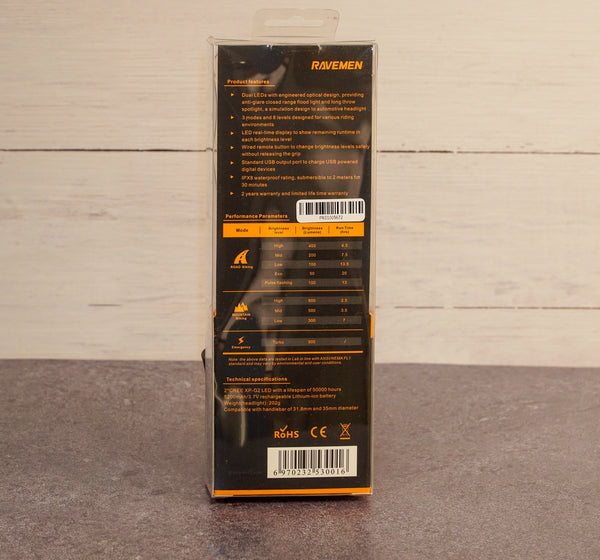 Lighting up your route with its anti-glare DuaLens system, this PR900 model emits a maximum 900-lumen output to ensure you are always seen and safe, wherever you ride. Using its close-range low beam, it prevents you from dazzling oncoming traffic and pedestrians for ultimate protection as you make your way through other road users. 
Taking inspiration from car headlights, this innovative Ravemen lamp comes equipped with HiLo beam mode to improve long and short-range clarity, as well as a number of other settings to suit the conditions you ride in:
Road Modes:
High: 400 lumens - 4.30 hours
Mid: 200 lumens - 7.30 hours
Low: 100 lumens - 13.30 hours
Eco: 50 lumens - 20 hours
Rapid Flashing: 100 lumens
MTB Modes
High: 800 lumens - 2.30 hours
Mid: 500 lumens - 3.30 hours
Low: 300 lumens - 7 hours
Emergency Mode
Turbo: 900 lumens
The wired remote button on the unit allows you to switch easily between each setting without having to release your grip for an excellently efficient experience.
This durable and dependable, front-mounting lamp comes kitted out with an LED runtime display and mode indicators to let you keep on top of your remaining battery power and current light setting. Powered by a USB-rechargeable Lithium-Ion battery, the light shines to a maximum distance of 125 meters and comes housed within an IPX8-waterproof aluminum casing.
The unit also doubles up as a power bank to keep your cell phone or USB-chargeable cycling computer, adding another layer of versatility to this excellent, all-season bike light.
Features:
DuaLens Optical Design for road biking mode, providing broad closed range flood light with anti-glare low beam for commuting, no dazzle and glare for oncoming traffic
HiLo Beam System for Mountain Biking and Emergency Modes, providing illuminating light similar to automotive headlight with far reaching high beam and low beam
Intelligent Memory circuit remembers the last used brightness level and mode when turned on again
LED real-time display to show remaining runtime in each brightness level
Micro USB charging port, compatible with most phone chargers
USB output port to charge other USB-powered digital devices
Intelligent thermal management circuit to prevent overheat of LEDs
Quick release design for easily slide in and out
Compatible with handlebar from 22.2mm to 31.8mm diameter
20 hours run time
Max 900 lumens, 3 modes and 8 brightness levels for various riding environments
Specification
LED: 2*CREE XP-G2 with a lifespan of 50000 hours
Battery: 5200mAh/3.7V rechargeable Lithium-ion battery
Dimensions (Headlight): 100mm (L)*48mm (W)*27mm (H);
Weight (Headlight): 202g
Materials: The front and main body is made by aluminum with Mil Type III Hard Coat Anodizing; the rear part and the handlebar mount are made by durable plastic