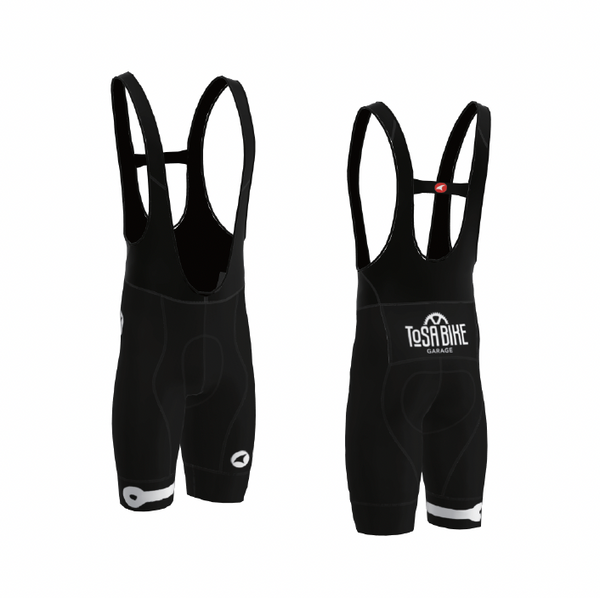 [short_description]
Custom Tosa Bike Garage bibs from Pactimo. The Ascent style bibs for the everyday rider. 
[/short_description]
[product_description]
OVERVIEW: This lightweight, traditionally Lycra-feeling bib short will perform well over medium distances in a variety of conditions. Flash Technology, a fabric characteristic that helps regulate body temperature, pushes perspiration away from the skin so you stay cool even when riding on hot, sunny days. The Italian-made, Elastic Interface® chamois in the Ascent Vector offers a larger footprint with more coverage to fit a wider range of riders, and includes added front coverage for increased comfort and reduced chaffing. Single layer leg bands with soft Silicone printed grippers give a muscle soothing compression fit while also ensuring the legs won't ride up.
FABRIC & CONSTRUCTION: The combination of Pactimo's proprietary Silhouette™ articulation and contoured seaming have been developed to guarantee a superlative fit in your riding position. The Italian Elastic Interface® chamois, featuring Elastic Interface® Technology, offers larger coverage with added padding in the front for added comfort. Breathable, mesh straps include stretch binding for improved comfort while a knit-bridge keeps straps in place over shoulders. 
THE SPECS:
TotalFit™ with MITI® Vector & Shield fabrics
Designed with Silhouette™ Articulation and contoured seaming for exceptional fit
Breathable stretch mesh upper with knit-bridge to keep straps in place over shoulders
Elastic Interface® Paris chamois
MARC 4 cm or 7 cm single layer leg bands include Silicone backing for extra gripping
Flatlock stitching
INSEAM
The following OFF BODY inseam lengths were measured on a garment at rest. They may not exactly reflect the ACTIVE inseam length when the garment is being worn due to the combined effects of the 1) the riders's torso and femur length, 2) stretchiness of the material, and 3) the rider's leg musculature.
Standard Length:
XS = 22.5 cm
S = 23 cm
M = 23.5 cm
L = 24 cm
XL = 24.5 cm
2XL = 25 cm
3XL = 25.5 cm
[/product_description]