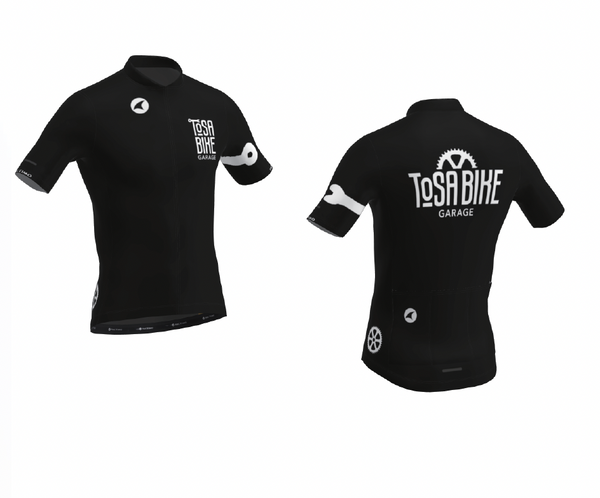 [short_description]
Custom Tosa Bike Garage jersey's from Pactimo. The Summit style jersey for ultimate comfort - perfect for race day!  
[/short_description]
[product_description]
OVERVIEW: The Summit has been designed for those who want the very best in fabrics and design in a jersey that will offer a slightly roomier fit through the torso. With three extra-wide rear pockets with expanding, bottom bellows and a zippered valuables pocket, this jersey is an excellent choice for racing conditions and all-day, endurance adventures alike. We developed it with the discerning rider in mind who wants the ultimate in breathability, performance and comfort.  
TRADITIONAL FIT: This jersey has a more traditional fit and is a little more roomier through the shoulders and torso. It's a good choice for those who prefer not to have a next-to-skin fit in the waist and belly. 
THE HIGHLIGHTS:
Italian-made, four-way stretch, lightweight and breathable
recycled body fabric
Strategically-placed, Italian-made mesh for breathability and weight-reduction
Raw-edge sleeves with internal, lightweight silicone gripper strips
Semi-auto locking zipper for one-handed venting
Low-profile collar for aerodynamic comfort
Wider, deeper pockets with expanding bottom bellows
Zippered valuables pocket
Reflective hits in optimal visibility areas 
FABRICS & CONSTRUCTION: 
Recycled Fabric: As part of an ongoing effort to reduce our carbon footprint, the development team searched high and low for the finest, high-performance fabric that was manufactured from recycled materials. The Italian-made, Borgini fabric used in Summit jerseys met the needs in every way. It is lightweight, wicking, durable, stretchy and fully recycled polyester with spandex.
Raw Edge: A raw edge cut sleeve is a thing of beauty. It's a seamless marriage between your arm and the sleeve, enhancing both comfort and aerodynamic performance. And, it looks elegant.
Hexagonal Mesh: We used a hexagonal mesh in strategic locations not only because it has a stunning appearance, but because it offers exceptional breathability, facilitates stretch and reduces the weight of the garment. 
Semi-Auto Locking Zipper: Rounding out the little details is the use of a YKK semi-auto lock zipper, which features a textured rubber pull for better gripping. The biggest advantage of a locking zipper is the ability for the wearer to singlehandedly unzip and open their jersey for venting. Merely flip the pull up to unlock the zipper. Then, with one hand, the jersey can be pulled open. Flip the pull back down to lock the zipper pull in place.  
[/product_description]