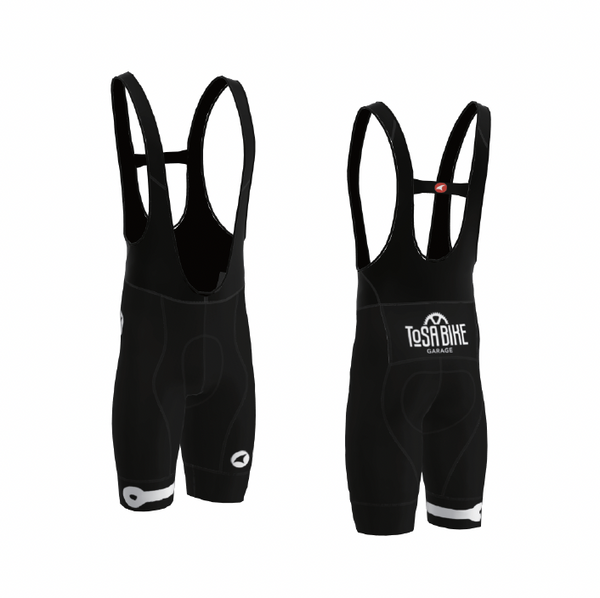 [short_description]
Custom Tosa Bike Garage bibs from Pactimo. The Summit style bibs for ultimate comfort - perfect for race day! 
[/short_description]
[product_description]
OVERVIEW: The Summit Raptor is the ideal choice for those who want a bib with a muscle soothing compressive fit and a 7+ hour race chamois. Two upgrades to this bib should really impress. The first is the redesigned uppers that will completely disappear during your ride. Thanks to a combination of breathable/lightweight mesh around the waist and raw-edge cut, double-knit straps you'll get all-day comfort and support without excessive bulk. The second big change is the new Elastic Interface® Road Performance Force chamois. It has a smaller footprint and significantly less heft than the Raptor's previous pad, but with all the guarantees to long distance comfort. The new Raptor, while still featuring the beloved Raptor fabric, is now more comfortable, compressive and compact than ever before.
THE HIGHLIGHTS:
Schoeller–Eschler Raptor™ fabric
Flash coldblack® for heat reduction an UV reflection
Mesh and raw-edge cut uppers
Raw-edge cut, breathable leg bands with silicone grippers
Reflective accents
Inseam (see tab)
THE DETAILS: 
Raptor Fabric: The tightly-woven Raptor fabric provides a performance enhancing, compression fit that increases oxygen delivery to active muscles in motion. Flash coldblack® technology throughout pushes heat and perspiration away from your skin while also reflecting UV rays so you stay dry and cool, even on the hottest days. 
Minimal Uppers: The redesigned uppers are not only extremely supportive, but incredibly comfortable as well, so much so, that we say they will disappear during your ride. To accomplish this, we've used a combination of breathable/lightweight mesh around the waist and raw-edge cut, double-knit fabric for the shoulders and front straps.
Long Distance Chamois: With feedback from racers and riders, we've moved to the Road Performance Force Hybrid chamois in the Raptor Bib. Developed by Italian manufacturer Elastic Interface®, it offers a smaller-footprint design that reduces overall bulk while maintaining long distance comfort through a multi-density foam design. It has been tested rigorously in 7+ hour rides and race conditions.
INSEAM
The following OFF BODY inseam lengths were measured on a garment at rest. They may not exactly reflect the ACTIVE inseam length when the garment is being worn due to the combined effects of the 1) the riders's torso and femur length, 2) stretchiness of the material, and 3) the rider's leg musculature.
STANDARD LENGTH
XS = 22.5 cm
S = 23 cm
M = 23.5 cm
L = 24 cm
XL = 24.5 cm
2XL = 25 cm
[/product_description]