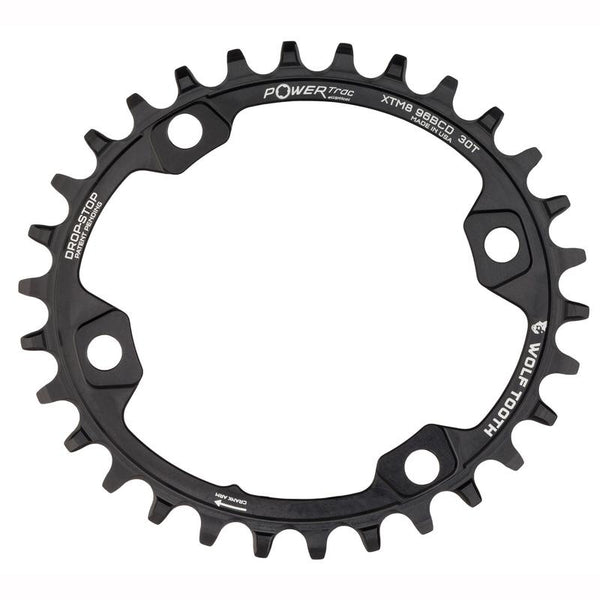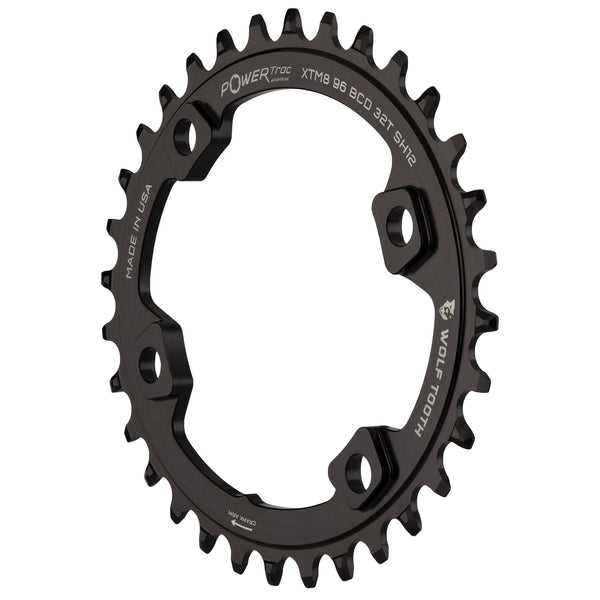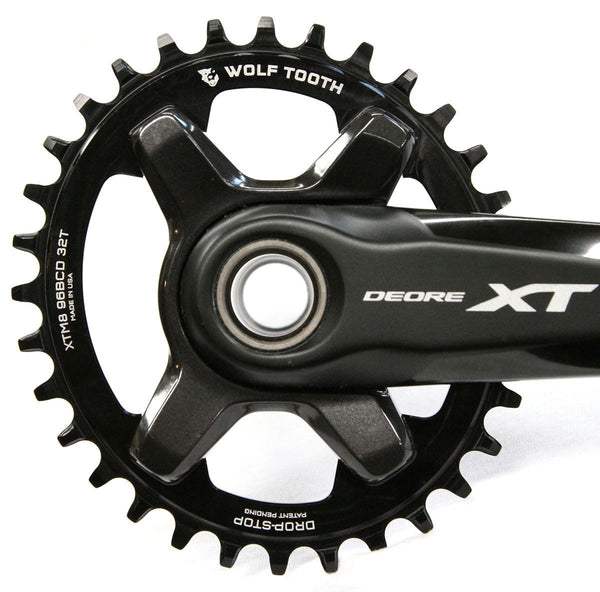 More power? Check. Better traction? Definitely. Less shifting? Yup. Funky uneven pedal stroke? Not with Wolf Tooth's 
PowerTrac Elliptical™
(PTE) chainrings. Our proprietary design means a slightly less ovalized ring (10%) with less aggressive timing (112°) than competitors' versions; any change to your pedal stroke is unnoticeable for most riders, but they still provide the POWER and TRACTION benefits inherent to oval chainrings. 
It's like having two chainrings in one! With PowerTrac Elliptical rings, the larger-diameter section of the ring engages with the chain at the optimal point on the downstroke, or "Power Zone," – between 1-5 and 7-11 on a clock face – to take advantage of your body's natural biomechanical POWER: For example, during this section, a PTE 34t ring is equivalent to a 36t round ring. Similarly in the "Recovery Zone" (11-1 and 5-7), the smaller section on the PTE ring engages, maximizing EFFICIENCY in the weakest part of the pedal stroke; here the PTE 34t ring is equivalent to a 32t round ring.
Additionally, the above provides a smoother, more efficient pedal rotation, which means better TRACTION. Steadier torque on the rear wheel means less spinning out in the "Power Zone," while pedaling is easier during the "Recovery Zone," so you maintain momentum.
Compatibility
These rings fit on the Shimano XT M8000 and SLX M7000 1x or 2x cranksets.
Use only the stock Shimano XT M8000 or SLX M7000 chainring bolts 
These CAN be mounted to the XTR 9000 series cranks, but you will have to use the bolt caps that come with that crankset and you will need to file roughly 1mm off the threaded boss on each bolt cap (they are a little too long and don't allow the ring to be tightened down).
Wolf Tooth's patented 

Drop-Stop®

 

wide/narrow tooth profile for the ultimate chain retention and mud shedding ability
If using a 9-speed drivetrain use a 10-speed chain (shifts and works well on a 9-speed drivetrain and fits the ring tighter for better chain retention).
Provide a great chainline on most boost bikes.  See this explanation for details.
Chainline - 49mm
Boost Crankset Chainline - 52

 mm

Must use the stock chainring bolts. The Wolf Tooth chainring bolts are a different size.

Ovality of 10% and timing of 112° after TDC (top dead center)
Maximum diameter is that of a chainring 2t bigger than the size you order so be sure there is adequate chainstay clearance.
Available in two different tooth profiles for optimal performance based on your chain type. Use Drop-Stop ST for use with Shimano 12-speed Hyperglide+ chains. Use Drop-Stop A for all 9, 10, and 11spd chains or 12spd SRAM Eagle, KMC, Connex or Wippermann chains.
Recommendations
If you plan to ride in very muddy conditions, we recommend a chainguide or chainkeeper in addition to a clutch-type rear derailleur. Without these precautions, you may experience chaindrops and/or chainsuck.

Recommend the use of a clutch style rear derailleur for the best chain security.
Tech Specs
Weight: 
30t • 41g 
| 
32t • 50g 
 

|
  34t • 59g
Material:
 7075-T6 aluminum
Made in the USA