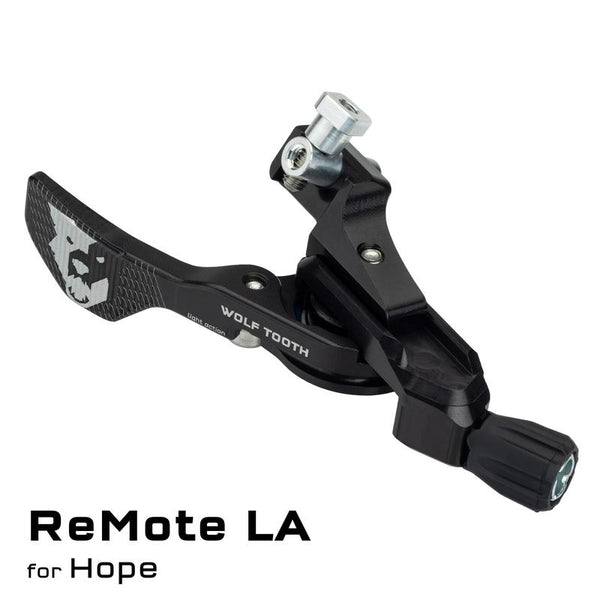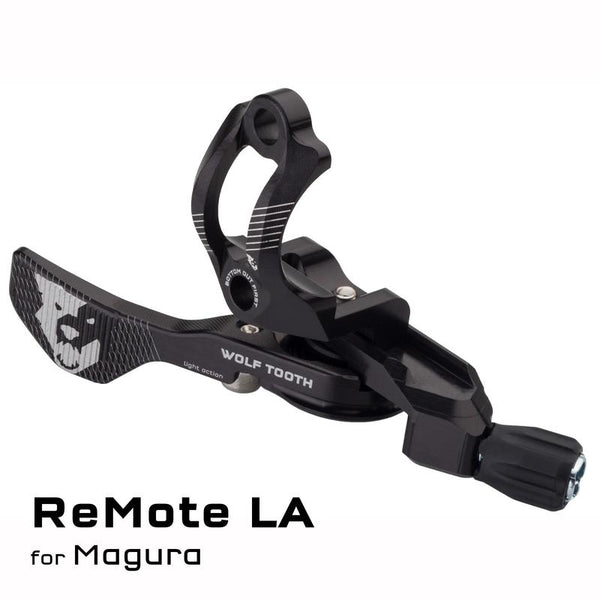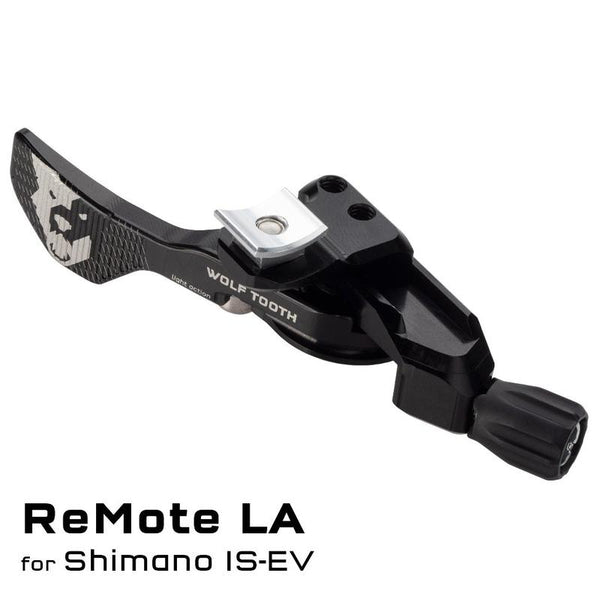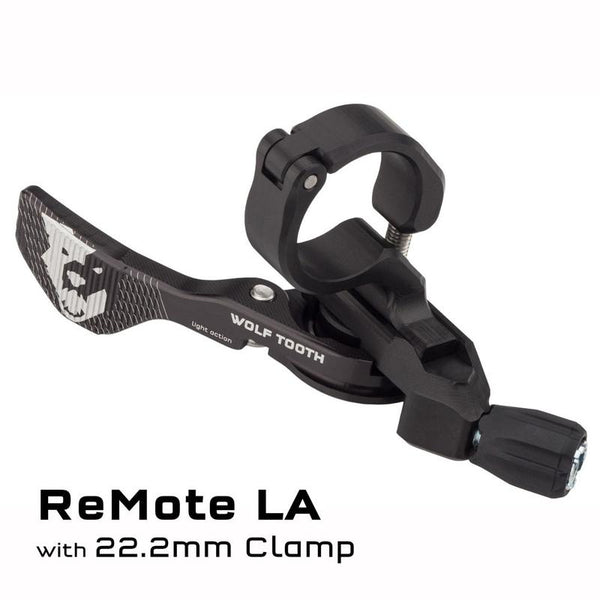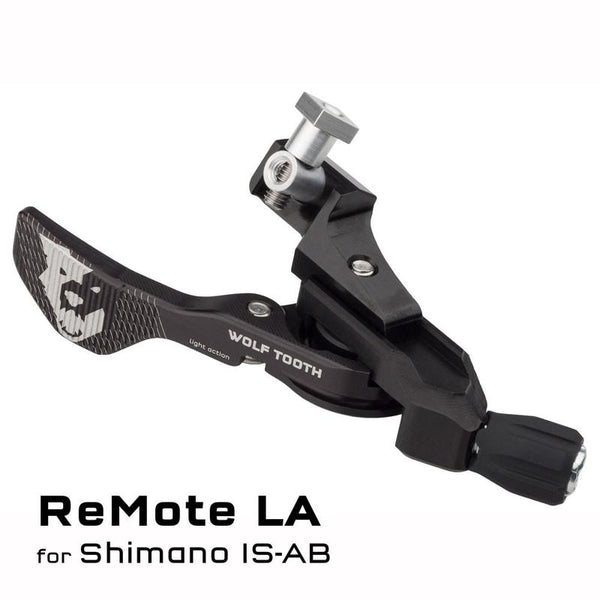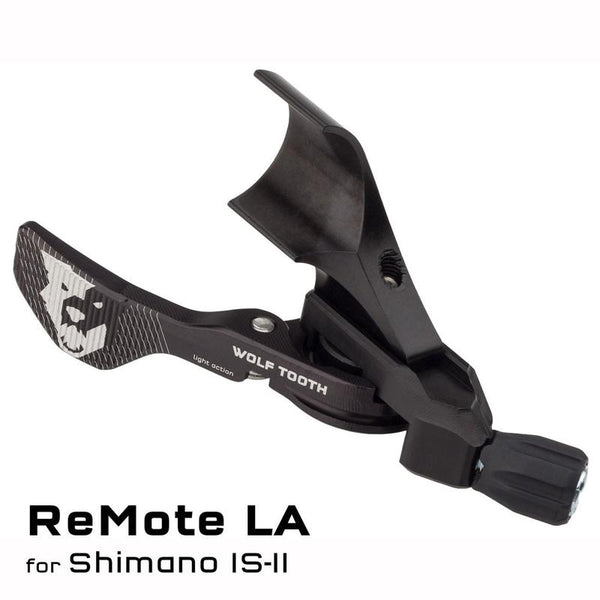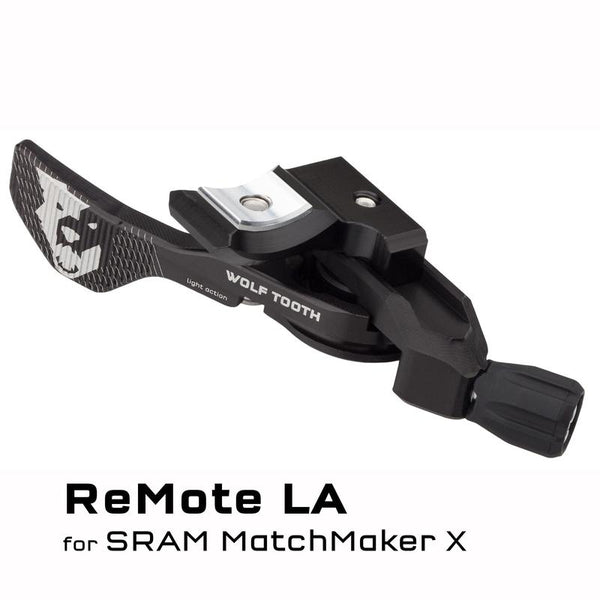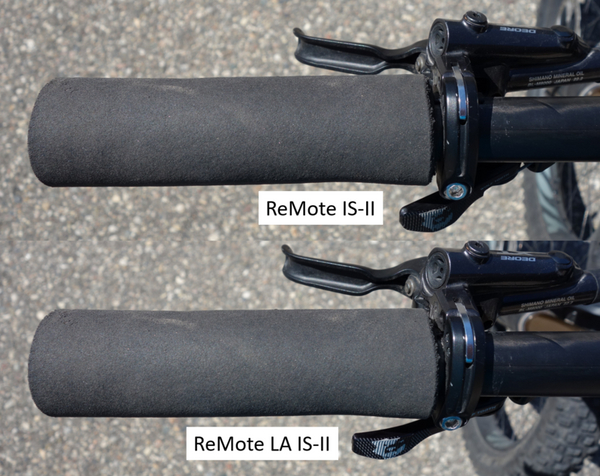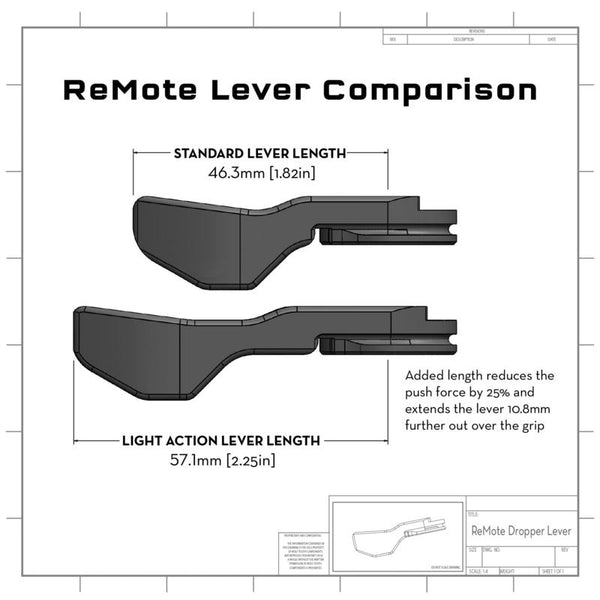 ReMote LA, or Light Action, is another option to our class-leading ReMote line of dropper remotes. They solve common dropper remote complaints with the compact, ergonomic, and sturdy ReMote LA. The patent-pending ReMote LA has a longer lever arm than the standard ReMote and is optimal for dropper posts with a harder pull or for riders that just prefer a really light actuation feel. It reduces the force to actuate a dropper by nearly a third of the standard ReMote.
Beginning with a long list of rider and mechanic requests, the Wolf Tooth team set out to address each and every one. Based on rider feedback and tailored to work with some posts' stiffer internal springs, the ReMote LA is also the choice of those with thumb injuries or reduced hand strength. From its hassle-free installation to smooth ball bearing action to engineered failure point, the lightweight ReMote leads in every category. 
UpFront cable fixing: The dropper cable is attached at the lever, making setup and adjustment quick and easy.  Simply secure cable at seatpost using stock barrel or cable clamp and route to bar for a significant reduction in installation time and frustration.

Large diameter ball-bearing pivot: An industry first, the ReMote LA uses a massive 21mm sealed cartridge bearing for smooth operation and unparalleled modulation.

Cable-kind clamp: A precision-machined cable path and custom clamping screw with captive washer won't damage cables like more common set screws. As an added bonus, cables can be cut to length and crimped prior to securing.

Low-profile, Light Action lever: The ReMote LA lever sits close to the bar, minimizing the distance the thumb must be removed from the grip while reducing the likelihood of knee contact in technical terrain and adds a bit of extra length to overcome stiff dropper internals.

Integrated cable adjustment: The ReMote LA's solidly-mounted barrel adjuster makes on-the-fly adjustments quick and easy while eliminating the rattles caused by common inline cable adjusters.

Breakaway axle pivot: Crashes are bad, but expensive crashes are worse. That's why the ReMote features an engineered failure point, allowing the lever to break away from its base in the event of a crash. Replacement axles are inexpensive and readily available here.

High-traction lever: A machined surface ensures that control is not lost- even in the worst of conditions.

Broad compatibility: The ReMote LA has been tested and is recommended for use with Thomson, Fox Transfer, Race Face, Easton, and 9point8 cable-actuated dropper posts.

Made in the USA: Wherever the capabilities exist, Wolf Tooth is committed to domestic manufacturing. From lever to packaging, 65% or more of each ReMote is made in the USA.
Compatibility
Compatible with all cable actuated dropper posts.

Works with dropper posts that have the barrel end of the cable at the remote and those that have the barrel end at the post.  

If your post is not listed in the charts below, measure the pivot center to end of your current lever. If it is greater than 52mm the Light Action will work best.  If it is less than 52mm, the Standard ReMote will work best.

ReMote for Hope is only compatible Tech 3 brakes. There are two generations of Hope Tech 3 brakes. Our ReMote is designed to work  with the early model of the Tech 3 brake levers. The newer model of the Tech 3 brakes has a threaded hole and will require some modifications to our ReMote base.  More info about modification.

Contact Wolf Tooth customer service for other post compatibility questions.
Mounting Types
ReMote IS-AB for Shimano I-Spec A or B - Includes IS-AB hardware

ReMote IS-II for Shimano I-Spec II - Includes IS-II hardware 

ReMote MM SRAM/Avid MatchMaker X - Includes the MatchMakerX hardware, which is a T-Nut and bolt that allows the ReMote MM to attach to the MatchMakerX clamp. You will need the MatchMakerX handlebar clamp, which we do not sell but can easily be purchased.

ReMote 22.2mm - includes hinged handlebar clamp for 22.2mm handlebars. All mountain bike handlebars are 22.2mm where your shift and brake levers attach even on 31.8mm handlebars. (31.8mm and 35mm handlebars just refer to the diameter where the stem clamps). Attach with 1-2nm max.

ReMote 31.8 is available for road bikes where the ReMote is mounted next to the stem.

ReMote Magura for Magura brakes and some 2-bolt clamp SRAM brakes - Includes Magura hardware

ReMote Hope for Tech3 Hope Brakes - Includes Hope hardware (see compatibility above)

ReMote IS-EV for Shimano I-Spec EV - Includes IS-EV hardware